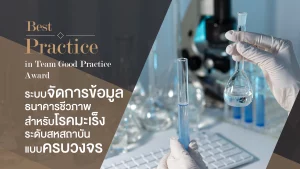 Awards ระบบจัดการข้อมูลธนาคารชีวภาพสำหรับโรคมะเร็งระดับสหสถาบันแบบครบวงจร ได้รับรางวัลประเภท TGA ในงานมหกรรมคุณภาพ ประจำปี 2565 โดย คณะแพทยศาสตร์โรงพยาบาลรามาธิบดี More...
Read More
HCA Asia 2022 Meeting (3-4 November 2022)
The HCA Asia 2022 Meeting aims to bring researchers together to share updates and insights, to broaden representation of communities across the Asia-Pacific region, and to enhance scientific impact in the region and across the globe.
Powerful resources
for research collaboration
1 Institute & 3 Faculties
For those who are looking to gain a degree associated with engineering, ICT, medical sciences, biochemistry, computational biology, systems biology, or bioinformatics. For everyone!